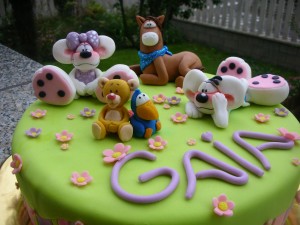 I found this recipe for a green cake for kids birthday consisting of Kiwi and strangely enough, Avocado … hehe.
Nevertheless, it sounds like a very interesting birthday cake and it's not very hard to do.
The ingredients you need for the cake is:
2 cups of sour cream
3 avocados, ripe
250 g kiwi
3 pre-baked cake layers
2 cups whipping cream
1 tbsp icing sugar
For the glaze, you need:
lemon juice
Possibly. green food coloring
Because we have kiwi and avocado, I thought it's a good idea with the green color of the glaze too, so grab it.
The procedures for making the cake is:
Slice the avocados in half and remove the seeds and peel.
Mash the avocados well with a fork or a blender.
Whip the cream, stir sour cream and icing sugar and mix with mashed avocado into a creamy mass. You can add a little more icing sugar to sweeten it.
Peel kiwi and cut them into slices.
Put one cake layer on a plate as the bottom of the cake
Spread half of the avocado cream and add 1 / 3 of kiwi slices on.
Add a new cake on layer, spread the rest of the avocado cream and even 1 / 3 of Kiwis spread on top.
Place the last cake layer on the top of the cake.
Make a glaze of powdered sugar and lemon juice.
Add a few drops of green food coloring.
Spread icing on top of the cake – perhaps also on the sides.
Decorate with the remaining kiwi slices or some sugar figures.
Let cake stand to cool untill the glaze has hardened.
Are you having the cake with you outside, then wrap the cake in clingfilm and in a towel. But the cake into a basket or where to store it while it is transported.