Some time ago I found a website that had a lot of guides around party events and such.
I fell over a guide on how to create your own decorations for muffins and other items of that sort, and thought I would share it with you here.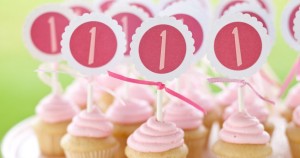 Now it's made for a first birthday party, but there are no limits to what it could be for motives, when you yourself is doing it.
It could be other numbers or scene stuff from the birthday theme of your party.
What you need to make the decorations are:
Tape, glue, some nice ribbon and any paper shapes you want to use and a small lollipop stick or other little stick. There are these used a jagged paper circle, a small paper circle, and the papers number "1".
Using glue you put your design on the small circle and then glue the circle on top of it frayed or jagged circle.
With a small piece of tape, tape it to the the stick firmly to the back of the jagged circle.
Then tie a nice ribbon on the bottom. a breeze. And it's just putting them in your muffins.