This is a very simple and easy way to make a gingerbread man – or woman. Buns / cakeman is good and freshly baked, but can easily be baked the night before
Birthday cake is approx. 10 people, but otherwise it's just that times up.
The ingredients you need for the dough are:
100 g butter
50 g.gær
1 egg
4 dl. milk
1 dl. sugar (85 g)
about. 750 g flour
1 tsp. coarse salt
For the glaze, you need:
½ cup. pasteurized stiffly beaten egg whites
125 g icing sugar (2 ½ cups)
candy pieces or dried fruit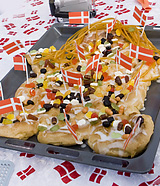 How to make the buns:
Signs of Bagge paper a gingerbread man or woman
Knead the dough over and shape the buns
Put them on cookie sheet with ½ cm apart (they will swell and grow together) in the drawing's outline.
Turn oven to 200 degrees and when the buns have raised a half hour, they bake about 12-15 min. Check that the middle buns are finished.
Pour glaze over and decorate with candy or dried fruit.