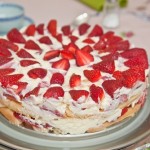 I had such a craving for a cake yesterday, but it was so hot, so I thought it would be good to bake a fresh pie with berries from the garden when the first strawberries has just ripen. I looked around online and found a recipe that looked really nice and fresh and is easy to do with.
The cake is approximately good for 10 servings(though a bit more for kids).
Fresh and soft berries are preferably used such as raspberries, strawberries, blackberries or a mixture of several kinds of "soft" berries. If you make the cake after the berry season, frozen berries are used for the cream, and the cake can be decorated with fresh fruit of the season.

Ingredients:
3 pie plates
2 cups of cream for whipping
500 g fresh strawberries
3 tbsp. sugar
Extra fruit to decorate the cake with.
Strawberries cut into small pieces and sprinkled with sugar.
Procedures:
Whip the cream stiff and strawberry / sugar inverted gently into the whipped cream.
Put the layers together with strawberry cream.
Keep the third to the top of the cake.
Add additional strawberry slices between the layers.
When the pie is put together garnish it with plenty of fresh fruit on top and serve immediately.