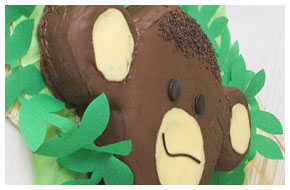 I found this recipe on Dansukker Website and thought that it looked super hot out, so I had to just share with you.
The ingredients you need for the birthday cake are:
4 cups sugar
100 g butter
4 eggs
2 cups milk
4 tsp. vanilla Sugar
6 cups flour
3 tsp. baking powder
2 tablespoons water
4 tablespoons cocoa
butter to form
Rasp to shape
Procedures for making the cake are:
Form a large cake 30×40 cm greased and sprinkled with breadcrumbs.
Set oven to 175 °.
Melt the butter and let it cool.
Whisk eggs and sugar until it foams.
Mix flour, vanilla sugar and baking powder into egg mixture.
Add the fat and milk.
Add 2 / 3 of the light batter into the mold and  mix the cacao in the rest of the dough.
Add the dark batter and drag a fork through the dough, so the finished cake will have a mottled appearance.
Bake cake in oven for approx. 35-40 minutes.
While the cake bakes you make the glaze that consists of:
1 package of Icing Sugar
2-3 tablespoons water
2 tsp oil
2 cups icing sugar
A little yellow food coloring
2-3 teaspoons water
1 teaspoon oil
Mix all ingredients for the glaze and coat it into the cake when it has cooled down. Cut it out into a monkey shape.