I found this recipe on a danish website, though it is Swedish, and it was referred to as a princess pie, but it's actually a layered cake, although there is usually only 2 layers in the middle and the bottom of the cake.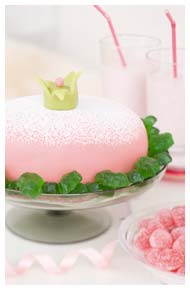 It originates from Sweden where the cake is called tårta which is probably why they called it pie, because that is the meaning of the word tårta. Usually it is green, but we can make it pink so it becomes really beautiful, and looks like a real princess cake. To make the cake easier,  we make a 1 large cake bottom and divide it into 3 parts instead of having only 2 cake layers, so should preferably be a little thick and it is clearly best placed to bake it.
Here are the ingredients for the cake bottom
2 cups of sugar
4 eggs
1 cup of flour
1 cups of potato flour
2 tsp of Vanilla Sugar
2 tsp of baking powder
This is the procedures for making the cake bottom
Set the oven to 175 degrees.
A round shape (approximately 22 cm in diameter) is greased and sprinkled with breadcrumbs.
Whisk eggs and sugar until fluffy.
Mix flour and potato flour with baking powder and vanilla sugar.
Turn mixture into egg mixture.
Pour it into the mold.
Place the mold on a rack at the bottom of the oven and bake the base for approx. 40 minutes.
Let it cool in the tin for five minutes.
Invert the cake onto a wire rack and allow it to cool.

Then we need to create a vanilla cream containing ingredients:
2 cups of milk
½ cup light syrup
2 egg yolks
1 tablespoon potato flour
1 tbsp Vanilla Sugar
4 ½ cups whipping cream
…and here is how we create the vanilla cream:
Whisk all ingredients except vanilla sugar and cream, with vanilla cream together in a stainless steel saucepan.
Let the mixture simmer until the cream has thickened.
Add the vanilla sugar.
Allow to cool.
Whip cream and fold into the cold custard.
Split the cake into three layers. Spread jam on two of the layers.
Spread half the vanilla cream on the two plates on top of the jam and put the layers together.
Distribute evenly the rest of the vanilla cream on top and around the pie.
Put most of the vanilla cream in the middle on the bottom, so the cake is "dented".
Finally, we have made marzipan layer on top and for this we need the ingredients:
500 g almond paste or marzipan
3 cups Icing Sugar with Strawberry Taste
½ cup light syrup
Mix almond paste with icing sugar and syrup.
Roll out the marzipan between the plastic film into a thin circular plate, which may cover the entire cake.
Cover the cake, so the whole fuss cake.
Sprinkle tart with icing sugar. Garnish possible. with a little marzipan crown or else on top.