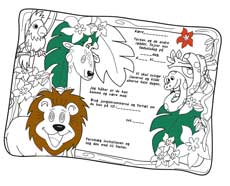 Like the one I wrote about in the post last time, I presented an  invitation for princess birthday. There were several who asked for a birthday invitation to use along with a birthday kit with mug and plates having jungle animal designs. As requested, I made something that can be used if you celebrate your party in the forest, in the park, in the garden or just at home with some jungle decorations.
I made 2 different formats for the Jungle Invitation:
A4 paper so it fills the entire page and the other is in
A5 format, so you can print out 2 in a normal sized piece of A4 paper
What is so exciting about this new invitation is that kids have to color the illustrated invitation making it fun for the kids.
Tell me below what you think about it and if you would like one with no other text or a specific design within the same genre.