For starters, there were several who asked about the next invitation for a children's birthday party. I was not able to finish a design for the jungle theme, but recently there were some who asked for a children's birthday invitation with a princess theme, which I have done now.
It looks like this: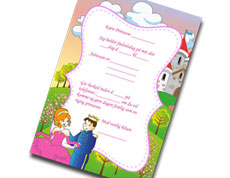 you can download the birthday invitation here.
It comes in two paper sizes which is in A4 format and A5 format ( 2 A5 size invitation in a single A4 sheet paper). Click on the links below to download the desired sizes.
Click here to download the A4 Size Invitation.
Click here to download 2 pcs. A5 Size Invitation
Use it for your birthday party celebration with fairy tale like themes, princess and prince theme or any kingdom-related theme. So click on the download links now while it is still available.
Leave us a comment below on what you think of the design. You can also send us your requests for blank invitations and customized invitation.