I have made a new free birthday invitation that you can download and print out to invite to all the kids for the birthday party.
This time it's with a prince and princess and a castle in the background and some fantasy trees.
the invitation text is designed so that it can be used to invite both the prince and princess.
You can download it in a large size to print out full-size birthday invitation on A4 sheets here: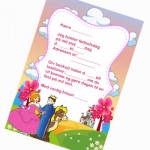 and also available is easy to print out with 2 invitations to each paper like this: