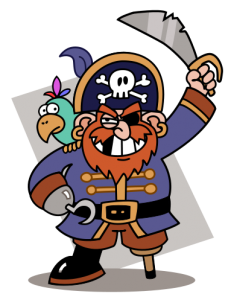 I was searching the other day after what the prices were on different costume equipment for pirates that could be used at a party with pirates, because a few people had been asking about costumes and accessories for pirate birthday parties.
I then found a site where different people had indicated what the difference was on a pirate and a buccaneer … if some of it is true or not, I do not know, but they are very funny some of them, so I though I'd post them here.
The difference between a pirate and a buccaneer:
It is spelled differently
A pirate is a robber at sea while a buccaneer can be on land
A pirate steals music while a buccaneer steals the bucks …
Pirates pillage, torments and plagues while buccaneers just likes to go treasure hunting
Pirates have a patch over one eye while the buccaneers have a patch over the other eye.
Pirates have cool hats while the buccaneer just have a rag on his head.
Pirates have hooks instead of one hand while buccaneers always have 2 hands.