In birthday parties, it doesn't have to be all sweet pastries like cakes, cookies and muffins. We can also serve healthy desserts such as fruit salad.
I found a nice recipe for a fruit salad at a danish website which is great for jungle party events and tropical-themed parties.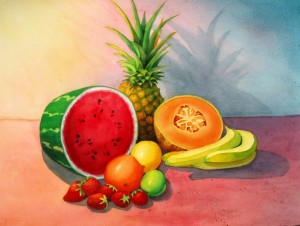 12 servings
Ingredients
6 oranges in half slices
6 apples in thin wedges
6 pears, diced
6 kiwis, diced
strawberries for garnish
(you can of course vary the fruits to taste and season)
Syrup
1 cup of rough sugar from sugarcain or plain. sugar
2 ½ cups water
Add sugar and water to the boil. Let the sugar water cool. Mix fruit in a bowl. Pour over.