I came across another recipe for the pirate party at a danish website which is good and healthy(which is just a plus).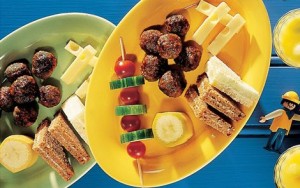 Cannon balls (about 160 pcs.)
1 ½ kg minced beef (about 6% fat)
4 tsp salt
1 ½ cups finely grated yellow onions
3 small crushed clove of garlic
3 eggs
4 ½ cups milk
2 ½ cups bread crumbs
75 g butter for frying
24 slices of rye bread
250 g butter
12 slices of light sandwich bread
4 cucumbers (about 1400 g)
24 bamboo skewers – approx. 20 cm long
600 g cherry tomatoes
6 bananas (about 1200 g)
2 tablespoons freshly squeezed lemon juice
600 g mild cheese

Heating time for "cannonballs": About 5 min. at 200 °.

Preparation of the "cannon balls":
Stir the minced meat with salt in ca. 1 min.
Add Onion, garlic and eggs in.
Stir milk in gradually and then add bread crumbs.
Place the stuffing covered in the refrigerator for approx. ½ hour.
Split stuffing into 3 portions. Let 2 servings stand covered in the refrigerator.
Form the third portion small meatballs (about 1 tablespoon).
Let 1 / 3 of the butter until golden in a pan. Fry the meatballs over a moderate heat on all sides (about 5 min. In total).
Shake the pan occasionally so that the "cannon balls" retain the round shape. Shape and fry the rest of the stuffing (1 portion at a time).
Gather all "cannon balls" in a baking pan lined with baking paper.
Add the slice bread with butter and place them 2 by 2
Cut each "slice bread" into 4 triangles.
Prepare sandwich bread the same way (cut if necessary. Crusts of).
Cut cucumbers into 1-inch thick slices and arrange them on bamboo skewers alternating with tomatoes.
Cut each banana into 4 pieces and dip the cutting surfaces in lemon juice.
Cut cheese into small strips.
Warm "cannon balls" in the middle of the oven at the end.
Serve each portion plate: Two dark and one light sandwich piece a spear, a piece of banana, cheese sticks 2-3 and 6-7 "cannonballs" in a pile.