I found this cool new recipe at a Norwegian website and I would like to share it with you.
Its a Chocolate Pirate Ship Birthday cake, perfect for the Pirate theme party. Below is the recipe and images on how to form the cake and its final outcome.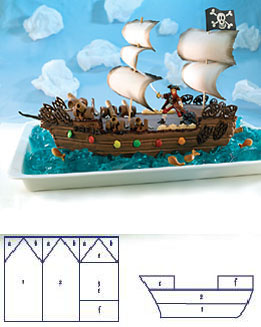 Here are the ingredients for the cake:
3 eggs
4 ½ cups of sugar
250 g melted margarine
3 tsp of Baking Powder
6 ½ cups of flour
3 tsp of Vanilla Sugar
4 tbsp of Cocoa
2 ½ cups of milk
Here is the procedure for making the cake:
Whisk eggs and sugar white and fluffy.
Pour the melted margarine inside.
Add the dry ingredients interchangeably with the milk.
grease a big baking-form, or use baking-paper and pour the cake-batter inside.
Bake the cake in the middle of the oven at 180°C for about 20-30 minutes and then let the cake cool off..
For the cream in the pirate ship you need:
250 g of soft butter
125 g of powdered sugar
1 yoke of an egg
5-6 tbsp of cocoa
Stir the butter and powdered sugar white, pour the yoke from the egg into the mix together with the cocoa and stir it into a smooth chocolate cream.
For decorating the pirate ship cake we can use:
cocoa decorations from paper cutout shapes
Chocolate letters and/or -numbers
Ice cream cones
BBQ sticks
Colored paper-sheets
2 packs of blueberry jello (or use 2 packs of another jello colored with blue food color, as shown in the picture)
 Make the jello as described on the pack and put it cold. If you are using a different color jello you have to color it blue. Part the cake into 2 lengths(1, 2 and 3). Cut two triangles(a and b) on all the cakes. Put two of the cakes(1 and 2) on top of each other. Cut the middle part away(c) from the last cake. Put the other two parts(e and f) in front and at the back of the cake. Finely cut the cake and spread the pirate cream on it.