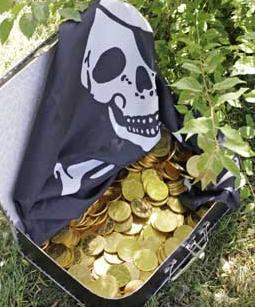 If you want to have treasure hunt in your party, and it should not take too much time, then here is a short version which does not have so many posts.


First post:
Pirates must be careful not to get eaten by crocodiles as they climb go over the canyon with crocodiles. Balance over a board or a leash on the floor.
– After everyone has gotten through,  give the kids a scarf to tie around their head. (Here you can buy a cheap piece of black fabric which is cut out for bandanas)



Second post:
Sometimes a pirate looses a leg in battle – so you should practice how to jump on one leg x number of meters.
– Children get a patch to the eye and perhaps drawn a mustache and a scar. (Remember to ask if some of the kids have allergies to face paint)



Third post:
Quick Sand Training. You have to be quick on your feet when you meet quicksand. Jumping from one thing to another (paper plate or something on the ground)



Fourth post:
Old Jack the pirate has hidden his treasure. It is in one of these buns. Everyone gets a bun, and one of them (or at all) there is a map. (The map can easily be baked inside buns if it's just wrapped in wax paper first)
The map leads to the treasure

The treasure box can be a toy suitcase bought cheaply in a dollar-store.