Make a cool drink for the pirate party, adn it will just set the feel for the theme with juicy drink.
Ingredients
2 honey melon (a ca. 1 kg)
500 g of blue grapes
500 g seedless green grapes
8 liters of cold orange juice
2 liters of cold water
800 g frozen strawberries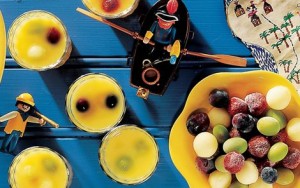 Procedure for Fruit juice: Half the melons, remove the seeds and make balls, eg. with an ice cream scooper. Add melon balls on a tray with baking paper and place it uncovered in the freezer. Sprinkle later the frozen melon balls in a freezer bag and freeze grapes and melon balls.

Serving: Mix the juice and water in jugs. Put the frozen fruit in bowls.