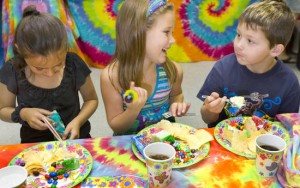 There are many things that can be done to get a successful birthday party, so I've looked around on web and gathered some of the best steps to get a super birthday party.
See 3 of them here:
1. Prepare all the activities
It is important that you pre plan the activities of the day so you can pull a rabbit out of a hat when possible. Free-play turns into turmoil or trouble. Prepare something that can get them together and is more calm. Do not interrupt the children, so long as the free play works well, but only if you feel that they get restless.


2. Make small goody bags
Candy bags or goody bags are a classic treasure to round off the treasure hunt with. Is the party held at the kindergarten, ask the teachers, if you can give them a little goody bag with other goodies than candy. Make a few extra bags of goodies and candy, if there are children who have forgotten let know they were coming. Are you keeping it in the home, then do not start by giving them candy bags, as most children will be hyperactive through the entire birthday party.
3. Do not have favorite toys and Do not promote dangerous toys
Put the toys away that your child does not feel like sharing. And prepare him / her to the fact that the toys lying around are for the quests to play with. Also promise the birthday child that you will be helping to tidy up, find everything and assemble Lego, which breaks down, when the guests are gone. Also store also the box with swords and shields and other toys that can be a little dangerous faaar away, if you can not manage a few fighting kids for three hours straight.