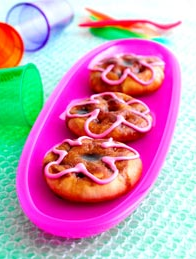 When I was little my grandfather always made Brunswick and it was one of the best things I knew.
Since then I have not really made some of them, but found a recipe the other day for this danish bread/cake, shaped like flowers, and I thought it was a super idea, if one was having a birthday party in the garden or jungle themed party. They can both be decorated as red, yellow or green flowers.
The ingredients you need for 16 pieces are:
50 g butter
4 dl milk
50 g yeast
500 g plain flour
1 teaspoon sugar
1 teaspoon salt
For Brunswick filling you need:
150 g butter
150 g brown sugar
1 tablespoon light syrup
Decorating the bread:
Pink glaze of red currant juice/or fruitcolor and icing sugar.
little Click mix or other mini-candy
The approach to the cakes are:
The dough
Melt the butter in a heavy-based saucepan.
Add the milk and let the mixture stand a few minutes. in the pot so that the milk gets a little hot.
Pour mixture into a bowl and stir the yeast in it.
Add the flour, sugar and salt and knead thoroughly.
Let dough rise warm and covered with a tea towel for approx. 30 min.
Forming the Brunswick
Turn dough out onto a lightly floured surface, divide it into 16 pieces and shape them into balls.
Press balls flat, so they get a diameter of 8-10 cm, and put them on 2 baking sheets lined with baking paper.
Cover again with a tea towel and let rise for another 30 min.
Making the filling:
Mix butter, brown sugar and syrup in a heavy-based saucepan and let it melt.
Boil the mixture now for liquid caramel – it takes approx. 10-15 min. Stir in candy along the way.
Prick the swollen buns with your thumb, resulting in 7-8 wells in each (they must hold the caramel).
Spread the caramel over the buns with a spoon – and beware, it's hot stuff!
Time to bake:
Bake brunswick buns in the oven at 250 ° C for approx. 10 min.
Leave to cool, and decorate them with frosting and candy and possible. flag.
Serve the freshly baked brunswick!
Tip: The recipe here can also be used for one large pan-Brunswick and pricked as Brunswick balls but bake for approx. 12-15 min.
If you've tried it, let me now what you thought of it in the comment box below.