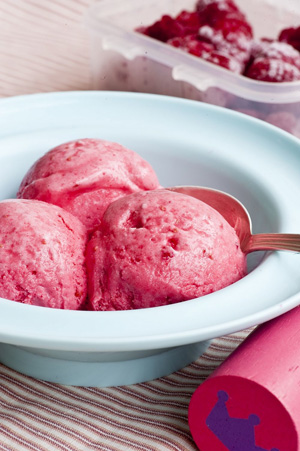 I found just a delicious recipe for a pink homemade ice cream and though I'd share it with you.
This pink ice will surely impress any young girl – even the most stubborn, picky eating one. This version is easy to make and will be a huge hit with the kids.
It can also be served to an adult dinner party with great success.
Ingredients for raspberry ice cream is:
450 g frozen or fresh raspberries
225 g sugar
2 egg whisked
20 ml (2 dessert spoons.) Lemon juice
1 / 4 liter of cream for whipping
Here is how to make the raspberry ice cream:
Ask for fresh raspberries from your local stores or groceries.
Then mix all ingredients except the cream together in a blender. The mass will here have a very red color (if frozen berries, use them directly from the freezer)
Whip the cream and mix it slowly with a spoon.
Put the mass in the freezer for a day and you have a delicious ice cream at the party.
Enjoy the ice alone or with fresh fruit.